Birth date : August 20, 2003
Pkace of residence : Region PACA
Astrological sign : Lion
Main qualities : Applied, combative and thoughtful
Hobbies : Sports car, bike and tennis
Karting debut : 2010
Single seater debut : 2018
Current category : F4
| Year | Competition | Category | Result |
| --- | --- | --- | --- |
| 2017 | CIK-FIA European Championship – R1 – Sarno | OK | WINNER |
| 2016 | World Karting Championship | OK-J | 3rd |
| 2015 | National Series Karting | CADET | CHAMPION |
| 2015 | French Cup | CADET | WINNER |
| 2014 | French Championship | CADET | CHAMPION |
| 2013 | French Cup | MINIME | WINNER |
| 2013 | French Championship | MINIME | CHAMPION |
| 2013 | Angerville – Interclub Trophy | MINIME | WINNER |
| 2012 | French Championship | MINIME | VICE-CH. |
| 2012 | PACAC Regional Championship | MINIME | CHAMPION |
| 2012 | French Cup | MINIME | 2nd |
| 2012 | Julie Tonelli Trophy | MINIME | WINNER |
| 2011 | PACAC Regional Championship | MINIKART | CHAMPION |
| Year | Competition | Category | Result |
| --- | --- | --- | --- |
| 2019 | German Chamionship | Formula 4 | CHAMPION |
| 2018 | French Chamionship Junior | Formula 4 | CHAMPION |
| | | | |
| | | | |
| | | | |
| | | | |
| | | | |
| | | | |
| | | | |
| | | | |
| | | | |
| | | | |
| | | | |

Birth date : August 20, 2003
Pkace of residence : Region PACA
Astrological sign : Lion
Main qualities : Applied, combative and thoughtful
Hobbies : Sports car, bike and tennis
Karting debut : 2010
Single seater debut : 2018
Current category : F4
| Year | Competition | Category | Result |
| --- | --- | --- | --- |
| 2017 | CIK-FIA European Championship – R1 – Sarno | OK | WINNER |
| 2016 | World Karting Championship | OK-J | 3rd |
| 2015 | National Series Karting | CADET | CHAMPION |
| 2015 | French Cup | CADET | WINNER |
| 2014 | French Championship | CADET | CHAMPION |
| 2013 | French Cup | MINIME | WINNER |
| 2013 | French Championship | MINIME | CHAMPION |
| 2013 | Angerville – Interclub Trophy | MINIME | WINNER |
| 2012 | French Championship | MINIME | VICE-CH. |
| 2012 | PACAC Regional Championship | MINIME | CHAMPION |
| 2012 | French Cup | MINIME | 2nd |
| 2012 | Julie Tonelli Trophy | MINIME | WINNER |
| 2011 | PACAC Regional Championship | MINIKART | CHAMPION |
| Year | Competition | Category | Result |
| --- | --- | --- | --- |
| 2019 | German Chamionship | Formula 4 | CHAMPION |
| 2018 | French Chamionship Junior | Formula 4 | CHAMPION |
| | | | |
| | | | |
| | | | |
| | | | |
| | | | |
| | | | |
| | | | |
| | | | |
| | | | |
| | | | |
| | | | |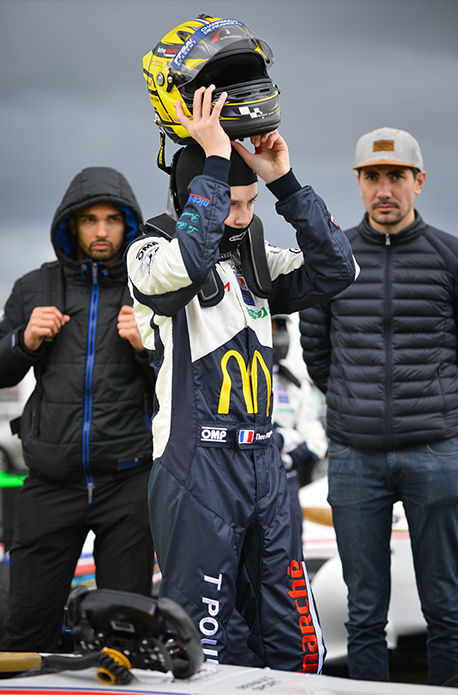 EARLY TALENT
From his first races in Minikart, Théo showed great speed. Auréolé of numerous victories, he has won three French Champion titles and won two French Cups. At international level, his 3rd place at the OK-Junior World Championship did not go unnoticed. A loyal FFSA member, he joined the French Espoirs Karting Team in 2017.
INTELLIGENCE AND A TASTE FOR EFFORT
Theo immediately understood that speed alone was not enough to win races. Well advised, he learned to use his intelligence to participate in the development of his equipment, manage his races and above all, progress at every opportunity. Over the years, he has developed his analytical skills and learned to dialogue effectively with his technical team. A hard worker, he knows that his efforts are rewarded.
A CHAMPION MINDS
A very balanced young man, Theo has always been supported by a family as passionate as he is. He evolves serenely on the circuits while enjoying life outside the race and pursuing serious studies. Behind his smiling and warm approach lies an iron will capable of meeting the greatest challenges.
ONE GOAL:


TO MOVE FORWARD

Overcoming new difficulties, learning from his successes as well as his failures, working without discouragement to progress constantly, this is the daily life of this young ambitious pilot. This is how he gained the trust of his partners. In addition to training at the FFSA Academy, his collaboration with Simution allows him to prepare himself to succeed in the challenges that will mark out his very promising career.
The F4 TO START


IN A SINGLE-SEATER

The French F4 Championship quickly established itself as the best choice to take its first steps in single-seaters in 2018. The FIA-compliant car, the level of the competitors, the circuits used and the quality of the FFSA Academy's management are all important arguments. The Winfield steering wheel has already allowed Theo to get noticed before the start of the season.